Well let me ask you what is the difference between a 90% & above student and just below 90% student??? They both have good scores but what makes them different. Their PASSION for whatever they do, and a scholar's PASSION is Study, Education, Goal and a Habit of winning and coming out with bright colours in every exam of life.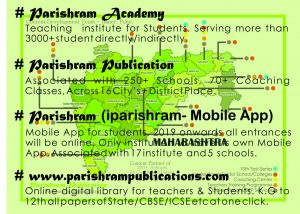 Our Philosophy
Who are WE ???
We are a group of Elite teachers who are passionate about teaching and have a very clear goal of conveying their passion for knowledge to passionate students. It doesn't matter what their marks were, what really matters to us is their Passion towards education. Their Passion to achieve their goal.
At Parishram we make this very simple " Team Parishram have people having ample of experience in their respective field.
 Hum passionate log hai jo ek soch ke saat jude hai, hume badlao lana hai humare Education system me, Jo apne stereotypical jobs aur lifestyle chood ke ek common soch ke saat age badna chahate hai, hum khud se pehele ek TEAM hai, TEAM PARISHRAM".
"Hum Padhate nahi hai, Hum Padhna Sikhate hai".